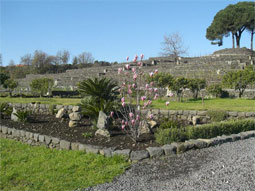 Services
Our plan schedules to build fine rustic cots scattered around the property so that our guests can savour their stay with great tranquillity enjoying the wonderful panorama surrounded by greenery and nature.
You can take delight taking a walk around the woods where you can find various footpaths at the edge of the vineyard terraces.
A peculiarity of our greeting is the warm welcome we devote to man's best friends: at Villa Grifunera dogs are appreciated guests and receive all the best care
.
Those who will come to Villa Grifunera with "Fido" will be able to leave him/her to us; we will take care of him/her for every need. We also ensure the periodic presence of a veterinary.
Villa Grifunera doesn't want to be a hotel but rather a high level private house which is open to an elite public looking for a high quality hospitality and wishing to experience the "house" lifestyle and the country.
Arts and crafts
courses are periodically held and open to attendance.
Our intention is to make a magic place with unique life rhythm and manners.
Here the house masters live in contact with their guests: particular moments are the afternoon tea and the evening happy hour.
The house staff will concern about suggesting you itineraries, places and events.
Your experience will also take place on board of the pool (coming soon), in the gardens ("exotic" and "secret") and in the outdoor cuisine premises.

:: Akina campione italiano
08/12/2015
--Alle expo di Modica Akina, Rhodesian Ridgeback, ha mietuto successi

:: Opi Campione italiano di bellezza
27/09/2015
--Il nostro OPI ieri a Siracusa ha conquistato l'ultimo CAC ed è diventato Campione Italiano di bellezza