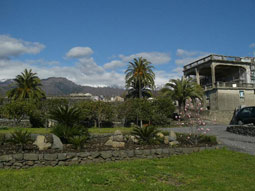 The Villa
The company is getting the villa equipped with a real estate complex in order to ensure a fine and warm welcome and to enable our guests to enjoy the beauty of the places, the courtesy of people and the quality of our products (wines first of all).
The key to our success lies in the quality of our products and hospitality, as well as in the choice of a highly suggestive and interesting location:

Santa Venerina enjoys the panorama of the Etna volcano and the Ionian Sea

; it is the city of wines and distilled beverages and belongs to the tourist routes around Etna. It is also close to Catania, Taormina, Acireale, to the Picciolo Golf Course and to the sea.
It can be easily reached from Catania International Airport, in normal traffic conditions,in 30 minutes by car

(4 km from Giarre junction, CT/ME highway).
At the moment four or two-bed apartments, provided with kitchen and living room, are available for booking but single-bed flats will soon be ready too. It is possible to avail oneself on demand of the breakfast and cleaning services.

:: Akina campione italiano
08/12/2015
--Alle expo di Modica Akina, Rhodesian Ridgeback, ha mietuto successi

:: Opi Campione italiano di bellezza
27/09/2015
--Il nostro OPI ieri a Siracusa ha conquistato l'ultimo CAC ed è diventato Campione Italiano di bellezza